As the saying goes, a picture is worth a 1000 words.
Summer Vegetable Chicken Soup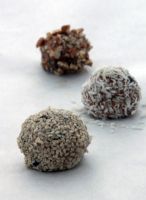 Peanut Butter Carob Balls
Homemade Granola
Veggies with Chocolate
Sloe Gin
Egg Rolls
Unique Purses
Furry Hot Water Bottle Cover
Paper Casting
Turn Milk Into Plastic
Macrame Jewelry
Local Grown Food
Basil Pesto
Basil and Eggplant
And More Basil
Cobb Salad
A Quilt from Scraps
Birthday Tablecloth
Recycled Plastic Motif Rug
Install a Satellite Dish
Laundry Care
Recycled Peg Bag
Birthday Cake
Watermelon Lemonade
Challenge Week Winner - Sunflowers in My Kitchen. Please email me for details.
Next Week's Host - The Fat Bottomed Girl
Keywords:
DIY, make it from scratch, blog carnival, recipes